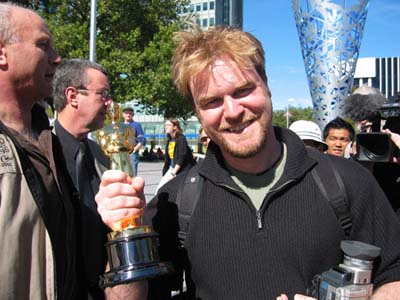 Photo Insert – Blue holds a Lord of the Rings, Return of the King, Oscar, in Christchurch, New Zealand. That's Hammond Peek to the left, the rightful owner.
AWARDS AND ACCOLADES
Beacon Point wins Best Thriller at the Atlanta Horror Film Festival.
Beacon Point wins Best Thriller at the Hot Springs Horror Film Festival.
Lost Crossing wins the Accolade BEST OF Award!
Lost Crossing wins the  Decatur Film Festival Competition Award.
This Side Up wins Special Jury Prize at the Mexico International Film Festival.
Eric Blue was Producer on the 48 Film Project, A Storyboard in A Major which made the "Best Of Atlanta" and won 2 awards.
Parked and Empty won the Atlanta Film Slam winning a spot in the Atlanta Film Festival.
Director Eric Blue was a finalist in HBO's Project Greenlight for his short film LOOK.
Eric Blue's first feature length screenplay, Lost in the Sky, was nominated for the prestigious Southeast Media Award in 2005.
FESTIVALS
BlueLantern's Films and Director Eric Blue have had Official Selections in film festivals around the world.
(Dances with Films)
(Mexico International Film Festival)
(Queens International Film Festival)
(Macon Film Festival)
(Sacramento Film Festival)
(Sunscreen Film Festival)
(Atlanta International Film Festival)
(Red Rock Film Festival)
(DragonCon Film Festival)
(Burbank Film Festival)
(Blackrock Film Festival)
(Cinesol Film Festival)
(Atlanta Film and Video Festival)
(Palm Springs International Film Festival)
(Rome International Film Festival)
(Atlanta Underground Film Festival)
(San Diego International Film Festival)
(Rome International Film Festival)
(Great Lakes Film Festival)
(Greenwich Film Festival)
(Ojai Film Festival)
(Fall River Festival of Film)
(Ohio Independent Film Festival)
(Atlanta Underground Film Festival)
(San Diego International Film Festival)
(Rome International Film Festival)
(Great Lakes Film Festival)
(Greenwich Film Festival)
(Ojai Film Festival)
(Fall River Festival of Film)
(Ohio Independent Film Festival)